Anna Banana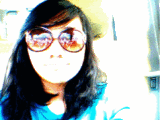 musika . letrato . pelikula . pagbabasa . kaibigan . pamilya . pag ibig . babae . lalake . ka-bitteran . pagsusulat . pangangarap . pagtanga . pagtawa . pagpapatawa . pagdaldal . pakikinig . pag muni muni . pagtambay . minsan minsang pagdadrama . madalas na pag alak
d'yan umiikot ang buhay ko

Follow me
got wasted on Apr 15, 2010; 3:47 AM
Follow me on Tumblr - http://annaaltez.tumblr.com
The prodigal daughter
got wasted on Sep 21, 2009; 9:49 PM
Will be coming home.... for good
Maturity
got wasted on Aug 16, 2009; 12:49 AM
No matter how much time you spend thinking of the days and the time that has long been gone it won't bring back the past. If it's over then it's done so get over it. I don't understand why I keep on forgetting this every so often I would remind myself but i tend to forget it over and over again. hm whatever.

Anyway I am faced with several dilemmas and I don't know how to get along with it. I miss the time when the only dilemma i had was whether to buy pinipig or ice buko. I guess its true that the older you get the more responsibilities you have, the more responsibilities you have the wiser you should be. I guess i'm not wise enough for the responsibilities given to me, as if i have a choice. Maybe I'll become wiser as I do these responsibilities, maybe years from now when I look back at these dilemmas I will look at them like how i look at the pinipig or ice buko dilemma now.
Snakes and Ladders
got wasted on Aug 1, 2009; 1:16 AM
Too old for this kind of games and shit but anyhoo, it's challenging and fun to see snakes get tricked by their own traps.